ARTICLES
(Click titles to expand articles)
BEGIN BY ASSESSING WHAT YOU ALREADY DO RIGHT, THEN IMPROVE ON THOSE THINGS
You can identify & sharpen your best practices—with the help of consultants who have witnessed all the biggest opportunities & the hidden pitfalls this industry can offer—and you can thrive while "Living Your Dream".
Your dream of owning a successful coffee business can be your reality, but it may be time to do some self-examination.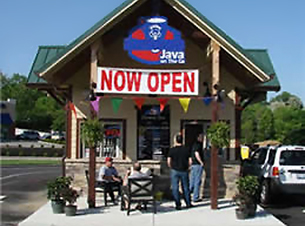 Quite simply, the key to a successful specialty coffee shop business is a superior espresso. Scores of entrepreneurs are rushing to jump on the specialty coffee bandwagon, investing thousands of dollars in espresso equipment and other start-up costs, without a clear understanding of what keeps customers coming back—serving THE BEST ESPRESSO.
It's a mistake to rely entirely on "ideal" espresso locations, demographics, or even the fact that the shop serves hundreds of cups of espresso–based drinks a day—none of which will keep a coffee business thriving if ultimately the product itself is inconsistent, disappointing, and palatable only if their bitter taste is disguised by adding flavored syrups.
So how do you determine how your
espresso stacks up to the competition?
I offer you the following to consider: If coffee shop owners and their employees never try their espressos and espresso-based drinks themselves, how could they possibly know if their customers will experience that "aha coffee moment"? The bottom line is that a poor "espresso image" and lack of effective marketing make it almost impossible to succeed.
As a coffee consultant, I find the most challenging part of an espresso coffee shop business is to train employees in the fine art of drink preparation. Careful preparation is a must for a well-executed coffee drink. If a barista fails to execute the preparation technique properly, even the best beans in the world will not make a difference.
Many so-called baristas are "espresso challenged" and really do not know what a good espresso or espresso-based drink should taste like; nor how to prepare it properly. The astonishing fact is that in many cases neither the coffee shop owner nor barista have ever tasted a well-prepared espresso-based drink, and therefore, have no standard for comparison.
In addition to low revenues and diminishing customer rate of return, there are other dangers associated with operating an under-performing espresso coffee shop. As an example, the shop might reach a point where management will lose its initial enthusiasm for the business. Another danger is desperate measures, such as diluting the original vision and passion for espresso by introducing food items, such as, soups, salads, pizza, which puts the coffee shop at risk of having a real chance of succeeding.
Having opened and operated 16 stores with my husband, Alex Fisenko, I am very well versed with employee training challenges. It takes the same length of time to train someone the right way as it does to train him/her the wrong way. Without proper training, "baristas" will follow procedures provided by roasters, supervisors, or equipment salespersons/technicians.
Helpful as that may seem, what value can that training truly have if the people dispensing the knowledge do not understand the espresso business themselves and fail to implement proper barista preparation and proven effective marketing techniques?
Here are some important facts for a shop owner to keep in mind:
Know the difference between a good and disappointing espresso-based drink. Though customer tastes may be somewhat subjective, underlying quality will always shine through.

Get baristas to understand that difference. Once they do, they will develop a taste for the "real thing" and won't serve anything they wouldn't drink themselves.
Merchandise your espresso with morning specials, e.g. croissant w/latte for $2.50.

Make sure your prices are realistic. It is very hard to "hook" a customer to a $6 latte, even if it's the best latte in the world; especially in the current economy.
Have a professional consultant (one with years of experience in running his/her own shop) train the baristas in proper preparation techniques and insist that the espresso-delivery person assist in checking quality. Even though the baristas will be primarily responsible for drink preparation, all employees need training in this very critical area.

Develop an understanding of the espresso retail business and a passion for the product yourself. Only then will you understand the true difference and be able to communicate that passion effectively to your baristas who will, in turn, transmit it to your patrons; resulting in repeat business and customer loyalty.

A person doesn't have to eat ice cream, hot dogs or hamburgers every day, but once a person starts drinking tasty specialty espresso drinks, he or she will tend to want to have at least one daily.
In summary, the formula to a successful espresso coffee business is to 'hook' your customers with a high-quality product, made exceptionally well, at an affordable price.
If you would like Alex & Associates, experienced coffee consultants, to help you assess your current espresso retail business, please visit our Consulting page or Contact Us for further information on our Assessment service.
---
Written by Oksana Fisenko
---
SO, YOU OPENED YOUR SHOP AND
ARE SELLING MOSTLY BREWED COFFEE...
---
You may be missing a great opportunity to
be making some "real" money.
Q: WHY WOULD YOU WANT TO SELL
MORE ESPRESSO BASED DRINKS?
A: THERE ARE TWO REASONS:
---
Make More Money
Give More Customers that "Aha!" Coffee Moment
---
If you follow the menu and the techniques in Alex Fisenko's Espresso Business Success Program, you will sell mostly espresso based drinks and not regular coffee. This will put more money in your pocket! While the average independent coffee shops sell only 15-30% of espresso based drinks and the rest in brewed coffee. All our clients manage to sell over 75% in espresso-based drinks from their total sales.
Who do you think makes more money, someone selling 300 cups of regular coffee a day at $1.25, or 300 cups of espresso based drinks at an average price of $2.97? The difference may be more than $50,000 a year extra in your pocket!
Though the choice of a location is the single most important element for the success of a retail coffee business, there are many other reasons why one coffee shop may be serving over 500 espresso based drinks a day, while another just a few doors down, barely manages to serve 50 drinks.
Simply put, a coffee shop that does not generate at least 50% of its coffee revenues from espresso based drinks does not position itself with an "espresso friendly" concept.
If a prospective new customer finds an extensive, confusing menu, slow service, poor tasting drinks and high prices, he or she won't return, and the vast majority of drinks sold will be brewed coffee. This may have very little to do with the equipment or coffee beans used, and everything with effective marketing and proper preparation techniques.
The other reasons why a coffee shop does not sell enough espresso based drinks, besides a poor location, are:
The owner or the manager does not drink espresso or believe in the espresso potential. It is very hard to convince your customers to try your espresso based drinks if you do not like them yourself, and I don't mean a "latte" drowned in some flavored syrup.

Because of a non-existent or ineffective marketing strategy, the business does not know how to attract new, non "espresso educated" customers, or how to capture existing espresso drinkers from the nearby competition.
The work area is designed improperly, making it awkward and time consuming to prepare drinks efficiently and promptly.

A menu that does not make any sense to a new customer.

Prices that have no relation to the perceived value of the product or what the market will bear.

Employees without proper Barista Training in drink preparation and efficiency.

Slow service.

Bad tasting drinks due to improper preparation techniques, wrong coffee or grind or poor equipment maintenance.

Poor, non-existent or confusing "Espresso Image" and marketing. To increase your sales, start attracting more customers and increase your edge on the competition, you must enhance your "Espresso Image."

---
All of the above, except a poor location, can be corrected.
*NEW* ESPRESSO BUSINESS
ASSESSMENT PROGRAM
Your dream of owning a successful coffee business can be your reality—but it may be time to do some self-examination. Let us help you assess what you already do right, then show you how to improve on it!
Alex's Espresso Business Success Program will show you how to increase your espresso sales and put more money in your pocket!
---
You will find more extensive material on this subject in our FREE email report: How to Make Real Money with Espresso. Click here to send us a request (type "Report" in the subject line of your email).
Q: WHY SHOULD YOU CONSULT WITH
ALEX & ASSOCIATES BEFORE INVESTING?
A: Right now you may have a "Golden Coffee Business Opportunity" staring you in the face—and not have a clue what to do about it!
Look Before You Jump!
Don't risk your money starting a coffee business or buying an existing business without first getting sound, experienced advice! Most of the people starting a business get in trouble way before they actually open for business. Once you have chosen a wrong location or bought an existing loser it may be too late to fix it!
No matter what coffee concept you have in mind, your investment will be at the minimum $7,000 and up for equipment and supplies, and from $60,000 up to $300,000 or more for a "Starbucks" type shop or drive-thru.
---
Q: ARE YOU REALLY WILLING TO RISK YOUR HARD EARNED MONEY OR THAT OF YOUR INVESTERS, WITHOUT KNOWING WHETHER IT WILL BE WORTH IT?
Q: WHO DO YOU THINK IS BEST EQUIPPED TO HELP YOU ANSWER THAT QUESTION?
A: ALEX & ASSOCIATES…THE ORIGINALS! RIGHT?
---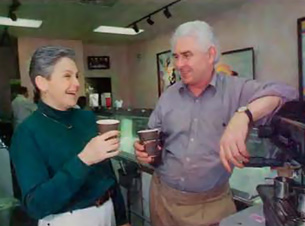 We have been in this business for over forty years, owned and operated sixteen of our own shops and helped to open hundreds of independent shops and drive-thrus all over the country.
Take the opportunity now to get advice from the most experienced people in the Retail Coffee Business, Michael Fisenko (Alex's son) and Oksana Fisenko (Alex's wife).
Though most of our personal, over the phone consulting is combined with the purchase of our book "Espresso Business Success Program", DVD, or any of the other programs, your situation at this time may not call for these resources yet.
What you may need at this time, before you start spending real money, is to call us at 1.866.590.9423 for help with questions like these:
Whether the location you are considering is a 'good coffee location', or
Whether the existing coffee business that is for sale is a good investment and whether business can be improved

Whether it is worth it to add specialty coffee to your present business

Whether the $16,000 "Super-Ultimate-Idiot-Proof" espresso machine is worth the expense

Any other Coffee Business related questions or concerns. We can most likely help…

We offer this advice over the phone or by e-mail for $97.00—for which you may contact us up to three times, for a total consulting time not to exceed one hour.
Let us assume that you were serious about any of the above, and prepared to write a BIG check. Then you discovered Alex & Associates, Inc and decided to seek our advice. If we advised you not to do it, and gave you good reasons based on our forty-plus years of experience, would you lose anything? Oh yeah…you'd be out our consulting fee!
How much would you lose, however, if you proceeded with the plan and it did not work out? Investing around $100 to save thousands really does makes good business sense.
On the other hand, if the plan does work, our consulting material will show you how to do it "with the least pain and the most gain". If you decide to purchase any of our consulting materials afterwards, we will apply the consulting charge to the cost of the materials.
You may call us right after you place your order, or email us with your phone number and a brief explanation. You will be able to contact us if we are in the office. If not, please leave a message with clear contact information and times and we will call you within 24 hours.
Case Studies of Coffee Business Failures & Mistakes...
or "How to Turn a Great Opportunity into a Disaster"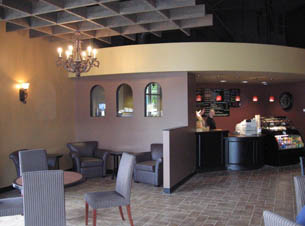 Why should
you read this?
Because it may make the difference between fulfilling your dream of being in business for yourself and making a good living—or wasting all your money and your time! Don't court disaster, call Alex & Associates before you invest!
What are the 8 Biggest Mistakes?
Starting to Spend Your Money...
and your time without first determining if your project makes any business sense in the first place. You won't learn that from your friends, relatives or your coffee or equipment dealer!
Choosing the Wrong Location:
The main reason for Starbucks success is the locations! Our Espresso Business Success Program discusses the criteria in finding that 'perfect' location.
Naming Your Shop with a Name Unrelated to Your Business:
You are driving along and notice a shop called Dottie's. Would you stop there for a cup of coffee?
Not Knowing How to Design Your Work Environment...
...for speed and efficiency of operation. Unless you design the shop properly, employees will be running around like chickens with their heads off, slowing service time and testing your customers' patience!
Having a Menu that is Too Long & Confusing...
...and that does not focus on the menu items that matter the most. While the average independent coffee shop manages to serve only 31% espresso-based drinks, our clients average over 80%! Just think how much more money you will make if instead of selling 200 cups of brewed coffee at $1.25 per cup, you sell 200 espresso based drinks at an average price of $2.97! That is a difference of $244 - over $80,000 a year!
Mixing Coffee with Food Items:
Soups, sandwiches and salads; people don't do to Starbucks to eat and they don't go to Subway to drink espresso-based drinks!
Poorly Trained Employees:
Employees with no clue how to market and prepare espresso-based drinks properly and promptly are death to an espresso shop!
Having Your Espresso Machine Operated...
...by people that do not drink & enjoy espresso based drinks themselves.
All of the above mistakes are PREVENTABLE! You don't have to make them because we already made them for you!!!
If you make any of the above mistakes, your business will not reach its full potential and you will not make as much money as you could. Worst case is that you will soon be out of business and lose all your and/or your investor's money.
As Alex, Oksana, and Michael traveled all over the country on consulting assignments, they saw many coffee business disasters that were created by owners that believed that "there is no big deal" in opening a coffee shop or a drive-thru. Many of them were influenced or misguided by coffee roasters, equipment salespeople, or design architects that 'never' worked a day in a coffee shop, or by "experienced employees" hired away from a competing shop. Due to these and some other reasons, they ended up with far less efficient and profitable shops, after having wasted needlessly thousands of extra dollars.
---
If you were investing $100,000 to open a coffee business, how much would you pay to prevent the above mistakes?
$1000? $5000? $10000? How much?
Wouldn't it be better to start right from the beginning than try to fix it later? After having wasted thousands of dollars and losing countless customers because you did not understand this business?
---
The following actual cases illustrate what happens when people start this business without fully understanding of what makes it "tick". Compared to any other food related business, the espresso business is more lucrative and the work environment more pleasant. However, as with any business, the owner/operator must understand it in order to maximize it's potential. To expect the coffee or equipment supplier to teach you the coffee shop business, is like to expect a restaurant equipment salesman to teach you the restaurant business and how to be a great chef!
---
7 Case Studies that Illustrate the Biggest Mistakes in Practice and the Results...
Case One: Clueless in PA
---
Some time ago Alex received a call from a man in PA who opened a coffee shop six months before. Prior to that, he found Alex on the internet and "read every page" of it. Unfortunately, though he understood somewhat "what" had to be done, he really did not know "how to" do it. He considered ordering Alex's "Espresso Business Success Program" to educate himself, but one of the "experienced" employees that he hired away from another coffee shop talked him out of it. She said that it "would be a waste of money", and she knew "how to make the drinks". She simply did not think that he would benefit from it to any degree.
He called Alex because he was concerned about the slow sales. He was barely breaking even. He wondered if by introducing sandwiches he could do better. We talked a bit about the location, which seemed to be in a good area, and should be doing at least $750 a day, instead of it's present sales of only $400-$500. Alex asked him several questions and realized that his slow sales were due to the following reasons:
The name of his shop was not obvious to a "coffee" concept.

His menu was wrong in every respect—it was too long, too confusing, and "not espresso friendly".

He did not understand how to "market" espresso based drinks and was selling mainly brewed and flavored coffees.

The equipment layout was designed by an architect who never worked a day of his life in a coffee shop. It was not designed with efficiency in mind, therefore making customers wait longer to be served

He wasted about $3000 more than needed in less efficient equipment.

He had no clue on how to properly prepare espresso based drinks, he left it to the "experienced" employee he hired from the other coffee shop—Alex could only imagine what the drinks tasted like!

He invested about $97,000, which at this rate of sales he would never get back.
All of the above mistakes cost him thousands of dollars in sales and customer satisfaction, and could have been prevented had he educated himself properly about the business!
Here is what he would have done differently, had he applied the principles that are covered in my "Espresso Business Success Program":
He would have chosen a name for his shop that made "coffee sense".

He would know how to "jump start" his business, instead of waiting weeks for it to take off.

He would have an "espresso friendly and focused menu" that would allow him to sell mostly espresso based drinks instead of brewed coffee, earning him thousands of dollars more per month.

He would have an efficient design and equipment layout that would make a big difference in the speed of service.

He would have saved at least $3000 in all of his equipment.

He would know how to prepare properly, faster served, better tasting drinks that would bring the customers back for more!

All of this would translate in higher sales, more customers satisfaction, and more money in his pocket!
Case Two: Non-Functional, but Great Location
---
A little while ago we got a call from a man who found us on the internet. He liked what we had to say and asked us to help him to find three or four locations on the East Coast, the only criteria being that they must do at least $600,000 a year in sales each. Money was no object, as he had as much as one million dollars to develop those locations. Alex spent about five days with him, looking at some prospective locations, and unfortunately locations could not be found or they were not available. But he was not disappointed, as during that time he got a much better idea of what to look for.
Alex did not hear from him for about four months, when all of a sudden he called him and asked to come over and help him open his shop. Surprised, Alex asked him why didn't he call him before, to design his shop and provide him with full consulting services, for surely money was no problem. He claimed that he did not need Alex's services at that time, as he "hired a nationally renowned" design architect to design his $375,000 shop, and an "experienced barista" from a competing coffee shop to help him with the set up and opening of the business.
Unfortunately, the "experienced barista" proved to be completely inept when dealing with anything but his area of "expertise", and probably cost him an extra $40,000 in superfluous equipment and shop design elements. The day before the planned opening the barista walked out on him. So, he was there ready to open his $375,000 investment and without experienced people to work it!
Indeed, the shop was in an excellent location, and it LOOKED like $375,000! However, the way it was SET-UP, that is, the counter and equipment layout, the menu, the register system, customer order and pick-up areas and the massive six person wooden booths along the wall, was absolutely not conducive for an efficient operation in that busy location.
He was convinced, however, that it could be operated in its present state, and asked Alex to open for business against Alex's advice. Needless, to say, it turned out to be an absolute disaster, and they had to close after about an hour, for there was no way they could handle the resulting confusion about the menu, the ordering, or prepare the drinks fast enough with the awkward espresso equipment set up.
This disaster proved to be very costly to the owner not only in the money lost due to faulty and superfluous design, but in the good will of his prospective customers. It took another week and $17,000 to redo the counter, reposition the equipment, change the seating, cash system and menu, but by that time the owner was so disgusted with the whole process that he put the shop for sale and canceled his plans for any additional openings.
Here we have a case of a perfect location, with a $375,000 opening investment, with a potential of grossing at least $650,000 a year. With proper expertise in designing, marketing and running of that business the owner could have put in his pocket around $200,000 a year and fulfilled his dream of being self employed. Instead, his dream turned into a nightmare.
He was influenced by:
An architect who never spent a day of his life working behind a busy counter of a coffee shop and who designed a work environment that was awkward to work in
By an espresso machine salesman that convinced him that the machine was "it"—that by having it he would make the best drinks

By a coffee roaster who praised the purity and freshness of his coffee, who pushed on him dozens of his bean varieties, creating a menu that did not make any sense except to the roaster

By an "expert barista" who did not have a clue on how to prepare drinks properly and efficiently and who did not have any "espresso marketing" sense

---
All of these people told him (in so many words) that "he would be crazy" to hire and pay for a consultant, that they would teach him the business for free!
Though that was an extreme example, this happens on a minor scale all the time, as we can see by the following cases:
Case Three: Excellent Location, High Investment Shop, Poor Marketing and Layout
---
Some time ago, while scouting for a location for a client in the Midwest, Alex came across a very attractive, expensively designed coffee shop in an affluent suburb of a large city. The shop was located on an older street that had undergone some cosmetic improvements and was populated with great restaurants, art galleries, boutiques, a performance theater and an array of small businesses catering to affluent patrons.
An expensive, brass and copper espresso machine occupied the center stage of the back counter, with a wall menu that featured every espresso drink in the Universe. The place was busy, with four people behind the counter stepping on each others toes. The prices were out of sight, starting at $2.75 for a small "latte" and $1.45 for brewed coffee. Alex ordered a "cap" and watched in fascination as the "barista" proceeded to "murder" his order by doing most of the preparation steps wrong. Because of the awkward equipment lay-out, seemingly without any consideration for speed or efficiency of the operation, it took twice as long to prepare it. Though it was one of the best looking cappuccinos that Alex ever had, served in an elaborate and expensive cup, it was also one of the worst, with no relation to what a properly cap should taste like!
Alex stayed for about 45 minutes watching the action, and was not surprised to see that only five more espresso based drinks were ordered during that time, while most of the coffee sold was brewed.
Despite of all that, the shop seemed to be doing very well. Of course, the reason for their relative success was the excellent location and the absence of expert competition, which came a few months later and took a great chunk of their customers and probably cut very deeply into their revenue.
The moral of this story: You won't be able to prevent competition, but you could keep it at bay by creating a loyal customer base. However, you won't be able to do that by serving lousy, overpriced drinks with slow service, no matter how much money you paid the architect/designer to build a monument to his ego.
With proper functional design, menu and common sense marketing combined with expert training and drink preparation techniques, such shops could become true "jewels", providing the customers with better product and service, and awarding the owner greater income and satisfaction.
Case Four: Excellent Location, Poor Shop With No Clue
---
Some time ago, while consulting for "Borders Books & Coffee", Alex stayed in a hotel near the Union Square in San Francisco. It was an early Sunday morning and Borders would not be open for another two hours. He had to have his morning "latte" fix to get him going, so he took a walk looking for a coffee bar. He came across a small shop with a big window "ESPRESSO" sign. As soon as he came in, he realized his mistake, for it was a bake/sandwich shop that happened to serve espresso. As all Alex's previous "espresso experiences" in such places were disasters, he was about to walk out but ordered a "latte" against his better judgment.
Sure enough, he got what he deserved: A thin, overheated, brownish and tasteless milk! When you combined that with a complete lack of any kind of "espresso image", a confusing menu and unrealistic prices for such a set-up, this shop qualified in every sense as an "espresso disaster zone". Such a wasted location, on a "demographically correct" street, with thousands of prospective customers passing by!
With some repositioning of equipment, change of menu, a few cosmetic decorations and an open and receptive mind set, this location (as thousands of other similar cases across the country) could have become a gold mine, selling hundreds of espresso based drinks a day, with half the cost and labor of the present operation. Obviously, the owner did not realize that, or did not know how to extract that gold. Alex wondered why his coffee supplier or the espresso equipment dealer did not show him the opportunity?
Case Five: Poor Location, Satisfactory Operation
---
One summer, while on vacation with family in the San Diego area, Alex pulled of I-5 to a strip mall for a burger lunch. Among the other stores, Alex noticed a shop with an "espresso" sign on the window. As he needed his daily fix, he went over there prepared to be disappointed. But to his pleasant surprise, he had a much better espresso than he expected.
He introduced himself to the owner, congratulated her on the drink and asked how was business. From her less than enthusiastic response, he deduced that it wasn't too good, and it obviously had nothing to do with her products, which were prepared properly as he had a chance to observe.
Her location, though right off the freeway, could be as well on the moon! The only prospective customers that noticed the store were people that came to the parking lot for some other purpose than coffee. Some months later she had to close her business.
Case Six: "I Can Get Free Training From My Supplier"
---
Some time ago Alex had a call from a woman who found a location. Having read his "Espresso Report", she felt that Alex was the person to help her start on the right track. As she had the necessary capital to remodel the shop (about $90,000) Alex started his consulting by evaluating her location, which turned out to be excellent.
A couple of weeks went by without any communication from her, Alex gave her a call. She told him that she found a large "national coffee wholesaler" that would provide her with "free training", a banner and some promotional material if she purchased the espresso equipment and coffee from them. She "more or less" copied the design of another coffee shop and proceeded to build out her shop. She also talked to one of the "experienced" employees of that coffee shop who wasn't happy in her present job, and she agreed to work for her.
In other words, our services were no longer required, as she "had everything under control".
A couple of months later we happened to be in her area on a consulting assignment and paid her coffee shop a visit. Indeed it was in a good location. Alex ordered a "latte" and got "an overpriced, thin, overheated, tasteless brownish milk". The layout of the equipment was not conducive for speed and efficiency of the operation, the menu was not "espresso friendly" and most of the drinks sold while we were there were "regular" coffee. Obviously, she wasn't making it on coffee drinks alone, as we noticed a blackboard menu with soup and a few sandwiches.
As she wasn't present at the time of our visit, we could not ask her how business was. But from the taste of the "latte", by observing the "barista" preparing other drinks, by the equipment layout, by the menu and by noticing what customers were ordering, we could say that this wasn't a "coffee shop"; it was a "deli" that happened to serve poor tasting espresso.
How many customers did she fail to attract to the espresso drinks due to lack of effective initial marketing? How many customers did she turn-off due to poor taste of her drinks? How many customers walked out because of slow service due to poor equipment layout? How much bigger was her payroll, her food costs, and how much smaller were her profits due to food preparation? How many tens of thousands of dollars would she lose due to her inability of positioning the business as a viable "coffee shop" in this excellent location? And how long would she last in business should expert competition open nearby?
Case Seven: Franchise Coffee Concept
---
Some time ago we received a call from a man that was considering buying a failed single unit coffee shop that had opened eight month prior as a coffee franchise. The owner of the franchise invested a total of $310,000 by the time he was ready to open the doors. He was losing his shirt, and was trying to get out, offering to sell his shop for whatever he could get.
Had that owner asked Alex & Associates for advice before buying the franchise, we would have told him:
The shop was twice the size of what he needed. He would be paying rent on space that he could not possibly use.

The extra decor and equipment that the franchise company required him to install would be a waste in that location, as most of his sales would be take out as there was a drive-thru window.

The menu did not make any sense, as it was focused on brewed and flavored coffee and coffee bean sales, instead of espresso based drinks.

Alex & Assoc. advised our client to pass on the deal, as the franchise company would not release him to become an independent.
We could tell you countless other "disaster" stories, but all of them have some similarities:
The owners did not understand the nature of this business. They thought that if you had a good machine and expensive coffee beans, you would make it. Equipment and coffee have very little to do with the success of this business. Just look at some bagel, sandwich or so called "gourmet coffee shops" in the malls -- some of them have $12,000 brass and copper decorated machines and use $8.00 a lb. coffee, and they only manage to sell dozens of cups per day instead of hundreds.
Most of them got "free" training either from the coffee supplier or the espresso machine distributor, who assured them that they would be wasting their money paying for a consultant. Though preparing drinks properly is important for better taste, barista training is only a small part of the whole picture. An experienced consultant would prevent all of the above mistakes, saving them tens of thousands of dollars, starting them off on the right track on the first day, and shortening the time it would take them to finally start making money.
They hired some "experienced" help from a competing coffee shop. Because the owner did not understand the business himself, he could not tell that the "experienced" employee was doing a good job or not.
They had no "espresso marketing" sense—they did not know how to introduce espresso based drinks into a new area and the menus were not "espresso friendly".
Their shop working areas were either copied from other shops without any sense or reason, or designed by architects who never worked behind a busy espresso counter and had no clue on how to layout the equipment for speed and efficiency of the operation.
Espresso/coffee by the cup is a great business, still with unlimited potential across the country. It may provide you with a substantial income and personal satisfaction—but only if you get enough education to conduct it properly!
Sooner or later, if you plan to be in any business, you will have to start investing some money. By the time you complete your project you may have invested from $40,000 - $300,000 and several months of your time. How you invest that money and time will make a huge difference in the outcome of your business.
One of the most effective ways to prevent the above mistakes and start on the right track is by working with experienced people that "done that and been there".
Alex's "Espresso Business Success Program" together with Oksana's or Michael's over the phone or by e-mail consulting, will provide you with all the basics on how to design, open and operate a coffee by the cup business and prevent those mistakes.The cost of this Program is a tiny amount of your total investment, but it may be the most important one, as it may prevent you from wasting thousands of dollars on something that may not work.
At the same time it may make you tens of thousands of extra dollars because it will show you how to maximize your investment by creating a concept that will return that investment in the shortest time.
If you want to do more "research", our FREE Coffee Biz Report "How to Make Real Money with Espresso" will show you what you must do to start up a profitable coffee retail concept.
Here are some of the contents:
Is it Worth It to go into the Espresso Bar Business? What Earnings Can You Expect?
Proper Location: The Key to Your Success
Proper Store & Work-Station Design: For Speed & Efficiency of Service
Effective Marketing of Espresso: Why it is so Important to your Success
Proper Drink Preparation Techniques: For Better Taste & Speed
Who are Alex & Associates and why should you take our advice?

Why should you read this?
Because it may make the difference between fulfilling your dream of being in business for yourself and making a good living—or wasting all your money and your time!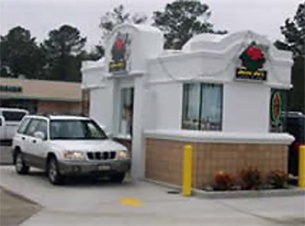 In many business districts throughout the country you may see lines of people waiting in front of a $$$bucks for as long as fifteen minutes to get their overpriced morning "latte fix." As more and more consumers get familiar with espresso based drinks all across the country and the demand grows, there is a great opportunity to satisfy that demand with a drive-thru in a more convenient way, with faster service, a better tasting product, and at a more reasonable price.
Here's a tip: The best place to locate a drive-thru coffee stand would be in a relatively "espresso educated" market. And the best possible location would be right next to a Starbucks that does not have a drive-thru!
But even if you are "espresso challenged" this can be overcome—our Espresso Success Program gives insight on how to circumvent these challenges. Beginning in 2006, Alex & Assoc. helped open successful drive-thrus in states, such as, Indiana, Pennsylvania Mississippi, Alabama, Texas, where most of the customers were "espresso challenged".
A drive-up is the ultimate state in the "espresso concept evolution". Unlike a coffee shop or coffee house, where people may go for other reasons than to drink coffee, it does not offer any social setting or entertainment value; people drive up just for your product and because it may be faster and more convenient than standing in line in a $$$bucks.
There are many places to locate your drive thru.
The best possible location to open a Coffee Drive-Thru is next to a Starbucks without a Drive-Thru! Our Espresso Success Program also talks about some other locations you should consider:
Traffic count during morning commute hours
Locations near other food operations
Locations near schools
Locations near retail centers, hospitals, etc.
There is a tremendous opportunity for serious investors to create coffee drive-thru concepts that combine an attractive design, good locations, proper equipment layout, effective marketing, fast service and a good tasting product!
Before you start planning a coffee drive-thru in your part of the country and imagine big $$$ signs, please consider the following:
Many communities across the country won't allow any kind of drive-thrus.
Most communities allow drive-thrus, however some communities may have a moratorium on them, whether it be a McDonalds or a Taco bell.
Most communities that allow drive-thru require a restroom and full hook-ups, such as water, etc. and will treat your operation like any other kind of fast food drive-thru restaurant. This might discount most of the self contained trailers, except pre-approved mobile units/carts.
Options in opening your coffee drive-thru business are discussed at length in our Espresso Success Program.
Here is your initial homework:
Check with various city or county departments, e.g. zoning in your community. While here in the Northwest drive-thru espresso stands have been in operation for some time, in other parts of the country they still have no clue. Alex's book Espresso Business Success Program has some interior and exterior pictures you can show the city or county as examples of what you are planning to do.
Find a Specific Location and TALK TO THE OWNER or PROPERTY MANAGER. Without a location, you have no business. Alex's Book - tells you what to watch for in leases. Again, you must have something to show the owner of the property.
Before signing the lease, call us and let's talk about your location. This call may save you a lot of money, time and aggravations. This phone consultation is included in the price of Alex's book.
Before you call, please do the above homework of finding a specific location and checking with the owner and all the interested bureaucrats.
In order to make the coffee drive-thru venture a success,the following factors must be considered:
Site location. Without a good location, you may have the best coffee in the world and fail! A good drive-thru location has very specific criteria—read about those requirements in Alex's book.
Building design and signs. Again, there are certain requirements for excellent marketing—read about them in Alex's book. One of the questions that the owner of the property will ask you is "What does the stand look like?" If you can show him a very attractive structure, your chances of securing the location will be greatly enhanced.
A large menu board that can be easily read. How far back from the first car? The requirements can be found in Alex's book.
A simple, basic item menu emphasizing espresso based drinks with reasonable prices. It is one thing to pay premium price for a "latte" in a high-class coffee bar, where the customer may tie up a seat for 30 minutes or more. It is another thing altogether to get your drink from a window and be on your way within a minute or two.
Proper equipment lay-out is crucial to producing drinks quickly and consistently. Customers have only so much patience.
The owner/barista must have thorough training in all phases of operation, with emphasis on fast and correct drink preparation techniques to keep the line moving.
Hundreds of other small details that one-by-one may not appear to affect the business to a great degree, but when added up may make or break your business! Read all about those details in Alex's book, it's all in there.
When compared to a conventional fast-food drive-thru operation, that may cost anywhere from $400,000 to the sky's the limit, an espresso drive-thru may range—fully equipped—from around $45,000 for a basic 8' x 16' trailer to $150,000 or more for a full blown 14' x 25' double drive-thru structure, with permanent utilities, restroom and long term lease.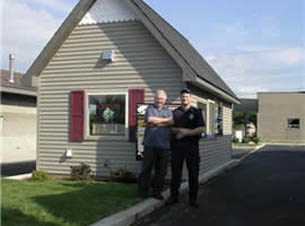 If you are the owner of a strip mall with a large parking lot or a gas station, you have a great opportunity to make some real money with a coffee drive-thru by placing an attractive kiosk for around $85,000.
In the right location your investment may be recouped in less than a year.
Depending on the location, appearance of the structure, marketing and the overall understanding of the business, sales may range from $60,000 to $1,000,000 a year.
The best opportunity for a coffee-drive thru entrepreneur would be to find a "defunct" or failing conventional fast food operation and convert it into a first rate espresso drive-thru. Such a conversion could probably be accomplished, including all the necessary equipment, for around $50,000. We would be very happy to help you with the necessary expertise to accomplish that task.
Please remember: Do not waste your time and effort shopping or "researching" for equipment etc. unless you have a specific location and are ready to sign your lease. What you need first is to understand this business so you prevent major mistakes and start out on the right track.
We will be happy to provide you with sources where you can get a self contained, fully equipped, turn key trailer, or a manufactured building with a restroom and full hook-ups for utilities. Please feel free to call us toll-free or email us after you do your initial homework.
Alex Fisenko helped companies and individuals develop successful espresso concepts for the last 25 years of his life.
Alex provided the initial "espresso expertise and inspiration" to some of the biggest players in the field. Besides having opened and operated 16 espresso bars himself, he traveled all over the world helping clients to open highly successful espresso bars. Locations include South Korea, Thailand, Belgium, Saudi Arabia, and most of the states in the US. He was also the initial "Espresso Business Seminar" presenter for the Coffee Fest in Seattle.
His wife Oksana and his son Michael are now carrying on Alex's legacy, offering all the time-tested programs Alex developed over the years.
Here are some links that will help you understand both what you are getting into & how we can help you:
In many business districts throughout the country you may see lines of people waiting in front of a $$$bucks for as long as fifteen minutes to get their overpriced morning "latte fix." As more and more consumers get familiar with espresso based drinks all across the country and the demand grows, there is a great opportunity to satisfy that demand with a drive-thru in a more convenient way, with faster service, a better tasting product, and at a more reasonable price.
There is a tremendous opportunity for serious investors to create coffee drive-thru concepts that combine an attractive design, good locations, proper equipment layout, effective marketing, fast service and a good tasting product!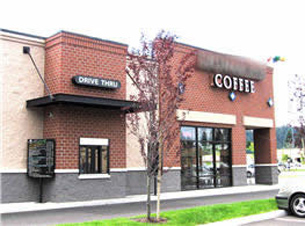 The best place to locate your drive-thru is next to a Starbucks without a drive-thru!The best place to locate a drive-thru coffee stand would be in a relatively "espresso educated" market. But even if you are "espresso challenged," this can be overcome—our Espresso Success Program gives insight on how to circumvent these challenges. In 2006, Alex helped open successful drive-thrus in states, such as, Indiana, Pennsylvania Mississippi, Alabama, Texas, where most of the customers were "espresso challenged."
A drive-up is the ultimate state in the "espresso concept evolution." Unlike a coffee shop or coffee house, where people may go for other reasons than to drink coffee, it does not offer any social setting or entertainment value; people drive up just for your product and because it may be faster and more convenient than standing in line in a $$$bucks. The best possible location to open a Coffee drive–thru is next to a Starbucks without a drive–thru!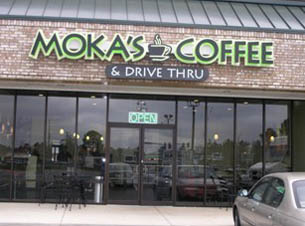 Before you call, please do the above homework of finding a specific location and checking with the owner and all the bureaucrats.
Check out this page: Start-Up Coffee Business Advice for information about our valuable one-hour consultation service before you lay down the big bucks on your dream.
You may call us toll-free until 6 p.m. PST at 1-866-590-9423.
HOW TO MAKE IT IN THE COFFEE
BUSINESS WITHOUT LOSING YOUR SHIRT!
"Coffee Shop Business Simplified So You Can Really Understand"
With all the popularity of How-To books "For Dummies", here is our short guide written for people that don't have a clue.
Daily, we get calls and e-mails from people asking us what kind of machine should we buy, what coffee do we use, where can we print my cups, etc. Ninety percent (90%) of these callers don't even have a specific location in mind! If you don't have a location, these things simply DO NOT MATTER at this time!
Regardless of what your friendly coffee roaster or espresso machine salesman may tell you, your success—or lack of it—will have VERY little to do with the coffee or machine that you may be using!
Here is what you need first:
Enough money to start your business, remodel, pay for supplies, equipment etc.
A specific physical location where you will put your business—not just a town.
Knowledge on how to start and operate it successfully without going broke.
We cannot help you with the financing, but Alex's book, Espresso Business Success Program has a business plan that can help you with the bank or investor. If you read this material, you will know how much money you will need and what kind of a location you should get.
We will be happy to advise you on any location you may have in mind. Call us. But please, DON'T CALL before you research the relevant articles on this site and do your homework first.
Business-savvy companies and individuals, when venturing into a new line of business, may admit their limitations and engage a consultant to advise them on matters beyond their primary areas of expertise.
However, individuals with limited financial resources and no business experience often fail to recognize that need. Unfortunately, the people that need help the most can afford to risk their money the least! If a wealthy individual or company loses money in a new business, they may shrug it off. On the other hand, an individual with very few resources cannot afford to lose all they have because of poor advice, planning or execution.
You must do everything within your means to assure that every invested dollar generates maximum results when considering:
Designing the shop, purchasing equipment and products
Training all employees in all phases of the operation
Implementing marketing strategies that will bring customers in when you first open and make sure that they come back
Though no one can guarantee the success of any business, you can take steps that will prevent you from making mistakes that may cost you tens of thousands of dollars and months of wasted time!
Let's assume that you do want to open a coffee shop/drive-thru. There are many challenges that you will have to solve before you can sell your first cup of "cappuccino". If you are not prepared to meet those challenges, either you won't open your business in the first place; or if you do, you won't stay in business for long; or your business won't reach its full potential, no matter what machine, coffee or how much money you have invested in opening it.
Here are some of the challenges:
Get enough financing for your venture
Find a proper location
Design the shop not only for looks, but for speed of service and customer's convenience
Choose your equipment and coffee supplier
Know what other things you will need, where to get them and how much to pay
Design a menu that will make sense not only to you, but to your "espresso challenged customers"
Implement a marketing strategy with the goal of selling mostly espresso based drinks. Why? Because that's where the real money is!!!
Get proper training for yourself and your employees in all phases of shop operations, including correct and speedy drink preparation techniques for better taste and faster service.
Learn how to market espresso based drinks, so as to sell more of them and create a large, loyal, and "addicted" to YOUR espresso, daily customer base. That is the "secret" of any successful coffee operation.
All of the above, with little variations, will apply to any coffee concept, whether you open a single cart, a drive-thru or a one-thousand shop franchise.
How do you meet all of these challenges
and avoid the mistakes?
Of course, you could get a franchise. A franchise is a proven way to do business. They already "ironed" out most of the mistakes for you, therefore eliminating many factors that would contribute to the failure of a start-up coffee business. Unfortunately, you will have to pay dearly for them to do all the thinking for you, anywhere from $10,000-15,000 or more for franchise/ training fees, and around 6%-11% or more of your gross sales as royalties. You still will have to find your own location, and will spend around $250,000 or more to open it. Many franchisees end up paying more to the franchise company in royalty/advertising fees than they retain for themselves. And of course, they still cannot guarantee your success. No one can.
If you want to be in this business but don't have $250,000 or more to invest in a franchise, or you don't want to pay them royalties of up to $50,000 or more a year, you have eliminated the franchise option. Now WHAT do you do?
You still have two options left:
Do it on your own, with some very limited
"free" training by your "coffee roaster" or equipment supplier
Though one hour or so of training may be useful, it will never fully cover the above nine points, and it cannot substitute for training that you may receive in your own shop just before and after you open. It would be equivalent to showing your child how to drive by going with them around the block a couple of times and then sending them out alone on a busy freeway!
If you believe an "experienced" kid working at some coffee shop (whom you are considering stealing away) will teach you all the planning and the business, then you'd also believe we'd sell you an excellent espresso machine for two dollars!
Do it on your own, but with expert help, so as to
minimize your mistakes and maximize your chances of success!
You take the advice from people, like us, that already made all the mistakes, so you won't have to! Besides preventing mistakes, we will also teach you how to solve the above challenges in the best way possible within your budget. Make sure that you ask for and check our references!
---
We'll use a metaphor to put those choices in the clearest terms:
Let's assume that you want to go from point A to point B, with point B being in a large city that you never have been to. You arrive at the airport and your immediate problem is to get transportation to point B. You could:
Take a limo and get there in relative safety.
This is the equivalence of buying a franchise. Along the way, as you sip your champagne and listen to Mozart, the limo driver will point out to you the interesting sights, advice on good restaurants and shopping areas, and warn you of places to stay away from. For this service you will pay about three times the price of a cab, and you will continue to pay the limo driver a portion of your income for as long as you stay at your destination.
Take a cab.
This is equivalent to hiring an excellent expert-adviser like us. You'll get there safely, but without the champagne. Along the way, the drivers will point out to you the interesting sights, advice on good restaurants and shopping areas, and warn you of places to stay away from. For this service you will pay only a fraction of the cost of the limo without any further payments.
---
Try to get there on your own, maybe on foot or by taking public transportation. Why pay for a limo or a cab? You can save a lot of money and get there on your own. After all, the Pioneers crossed the whole country in a wagon train. Surely you can make it across town!
You ask the person at the information booth (your coffee roaster or equipment supplier) how to get to point B. They will point in the general direction and you catch a bus. Finally, after several hours of traveling, changing three busses, getting lost in the wrong part of town and being mugged, you arrive at your destination, hungry, cold and without your wallet. But you did save the cab money, didn't you?
We at Alex & Associates, Inc. are your cab driver and your guide.
We are here to provide you with knowledge and expertise so you can open your own coffee business with "the least of pain and the most of gain".
After more than forty years of experience in this business, and after opening hundreds of coffee shops and drive-thrus including two failures, we have learned what works and what doesn't, how to prevent mistakes and how to implement certain design, marketing and operational procedures. These procedures eliminate much of the risk, just like a franchise, but without the franchise cost or ongoing royalty fees.
That is why we wrote the material on this web site—it can be achieved with much less expense.
If you are still not convinced of the need to understand this business, please visit these pages:
Before you call us about a drive-thru, please do the homework that we suggest on our Drive-Thru page.
Planning to Buy an Existing Coffee Retail Business?
DON'T BUY A MONEY PIT &
SOMEONE ELSE'S HEADACHE
Several times a week we get calls and e-mails from people that invested in an existing coffee shop and are greatly disappointed in its performance. They jumped, without real understanding of the business into what they thought would be a great opportunity for them to be in business for themselves and make a good living.
Instead, they found themselves in a bad dream, in danger of losing their investment.
Generally, it is much better to open your own business in a good location than to purchase somebody's headache. The exception to the rule is shops in good locations that made a mess of their operation because they did not know what they were doing.
You are not buying a shop for the equipment or the lease-hold improvements. Some owners may have put $300,000 to open a shop, but if it is in a bad location, it is worth nothing!
If you are in the process or thinking about buying an existing coffee shop with the hope of re-inventing the business, or by improving it's bottom line and operation, you must look very carefully at the following:
How long is the existing lease? Call Alex & Associates first to discuss best lease terms.
What is the MAIN product of the shop? That is, where does most of the money come from? If it is from food, then that is not a "Starbucks type" coffee shop. If it's a deli that happens to sell some espresso your profit will be much lower than from coffee and espresso based drinks. You can put more money in your pocket by selling $500 worth of espresso drinks than $1000 worth of food.
If you start making drastic changes, you'll probably lose the existing customer base. Depending on the location, it may be hard to attract new customers.
Small changes, however, won't work if you want to change the character of the shop, like changing it from mostly food to mostly coffee drinks. Just cleaning it up and changing a few employees won't do it. Call us to discuss what works best.
The location of the business: Alex's Espresso Success Program discusses at length what to look for in hallmark locations -- no matter what you do, you won't be able to increase the sales to any appreciable degree without a good location!
Lease terms: Call us so we can discuss best term leases.
Sales price: Good income coffee shops sell for $$$....check with us. We will share with you what a rent factor of your gross should be, providing it has come with all the proper things in place.
You may save yourself countless aggravations and your money by learning to understand the business BEFORE you jump into it by investing a few dollars in our "Espresso Business Success Program". The cost of this program includes our personal over the phone consulting, which may determine if you should invest in that business in the first place.
Get the following information and call us after you order the Program. This information will determine if it is a good deal or not:
How long is the lease? Is it renewable?
What were the gross sales last year?
Last month?
What is sold mostly, coffee or food?
How much is the rent?
How big is the shop?
How many pounds of coffee/espresso is used per week?
Get a copy of the menu
An equipment list

Note: We will be happy to talk to you about any coffee related business matter. However, before you call, please do your home-work. We do not want to start a conversation with you asking us: "What do you do?", or "What experience do you have?".
Before you call us about a drive-thru, PLEASE do your home-work that we suggest on our Drive-Thru page.
Increase Sales by Adding Espresso
ADD ESPRESSO TO AN EXISTING BUSINESS
There are thousands of shops with excellent potential for espresso sales all over the country. They could be anything from fast food, deli or sandwich shops that don't even open in the morning hours, to drive-thru cleaners and book stores. Many of them could increase their daily sales from $200 to $1000, depending on the location, marketing, the espresso setup and the taste of the product.
However, you won't create an "espresso business" just by purchasing an espresso machine and installing it in your present operation.
If you do not have an effective MARKETING PROGRAM that includes a proven menu and knowledge on how to sell and properly prepare the new drinks, you won't make much money.
Here are the steps that you will need to follow if you want to make any money by serving espresso based drinks:
Determine if your location is suitable. I will be happy to advise you.
Check with certain city/county departments (call us to see which ones) if you can do that in your present business and what will be required. If you are already a food establishment, you may waive this step.
If you are prepared to meet all the requirements of certain departments, the next step would be to determine what would be the best concept for you, placing a self contained "turn-key" espresso cart or to build an espresso work station.
You will need a marketing strategy to introduce your espresso: outside sign, menu and pricing structure.
You will need the right equipment and products: coffee, syrups, chocolate and cups.
If you are already in an "espresso educated" market, and want to attract customers from the competition, such as Starbucks, then you must demonstrate that you are serious about the business by having a menu that makes sense, speedy service by properly trained employees, and better tasting drinks than your competition.
If you are in a new area where customers are not familiar with espresso, your espresso station should be attractive enough, your menu and pricing should make sense to a new customer, and your product should be liked so they come back for more the next day.
How much is all of this going to cost you? A fully equipped espresso cart will cost from $10,000-$25,000; to build an espresso kiosk or work station within your store, taking up from 100-150 square feet, with all the equipment, will cost around $20,000-30,000. Of course, if you are a food establishment, you will have most of the equipment already and all you will need is an espresso machine, grinder, menu and counter space.
Note: Please don't waste your time or money on equipment if you are not prepared to do all of the above.
Our book, Espresso Business Success Program will show you what to do and how to do it. The best way to assess whether or not your business is suitable for espresso addition is by calling us now.