BARISTA
TRAINING Programs
Hands-On EXPERT Training + Proven Marketing Skills
ONE-ON-ONE TRAINING
MAKES ALL THE DIFFERENCE!
This is our mentor and friend, Oksana Fisenko from #AlexandAssociates. This is our coffee (ESPRESSO FINO) and the reason we Sol Station plan to knock your socks off with our European style Crema espresso... the way it should taste!
DAYNA -- OREGON, JANUARY 2018
TESTIMONY RE: OUR ESPRESSO FINO COFFEE BEANS
(Students & Customers)
I brought Gianni to the Coffee Lodge several times. As an Italian from Venice, Italy, where coffee-drinking is elevated to an art, he is a discerning consumer of espresso. He gave the espresso at the Coffee Lodge two thumbs up and pronounced it superior to Starbucks! From Customer Nov. 2017:Coffee Lodge Students came to our Barista Training School 9 years ago.....successful drive thru coffee shop in operation~
I just wanted to pass along a quote from one of our customers. It gave me goose bumps, so I hope you enjoy it too..
After buying two retail packs of whole beans, he inquired how we found our coffee. I told him our story and he replied, "I've been in many fancy coffee shops from SoHo to New Orleans, and I can tell you that this is the best coffee that I've tasted!"
We are fortunate to have found Alex and Associates and thank you for being there for us...
The Berkins!
(emailed April
13, 2017)
HOT OFF THE PRESS:
Exciting coffee adventures ahead... for all of us. Thanks to you, Oksana Fisenko. You ROCK. ( or maybe GRIND ) LOL
.... (Sept. 2016 students from IL) ...
AND YET ANOTHER:
Barista training in Troutdale, OR. Train with the absolute best and you will prevail. Oksana Fisenko along with Her Barista Training Academy supplying us with an abundance of "mad super espresso skills "! Thank you Oksana (Jade Sept 2016)
BARISTA TRAINING SCHOOL REVIEW: FEBRUARY 21, 2017 FROM STUDENT:
Coming out to Troutdale was a great experience for my barista career. I truly feel like it was the foundation I needed to be successful.
Thank you for that. CW
(CHICAGO AREA)
HOT OFF THE PRESS TODAY: NOVEMBER 7, 2016 REVIEW FROM CLIENT RE: BARISTA TRAINNG AND ESPRESSO FINO COFFEE BEANS:
The Espresso Fino continues to get such rave reviews from our customers, as does the Americano vs. Drip brew. We would not have conceived of doing that had we not come to Portland for training. We couldn't be happier! Doug and Andrea, CT.
TESTIMONIAL FROM SAN DIEGO JANUARY, 2018: Espresso, blonde roast, light brew, and dark brew. Whether or not these are words you are familiar with, live by, or have never heard of, we had the opportunity to meet some unforgettable trainers who are so passionate about teaching everything they know about coffee, they use these words in their daily language. They taught our baristas and refined their espresso and drink-making ability, in preparation for our grand opening. Though the art of coffee-making and the ability to make it enjoyable, are two things that are up there on the most important things we want to exude to our customers, we also learned Oksana and her son have even more to offer than just their coffee expertise and taste - Oksana Fisenko and her son Michael, offer persistence, passion, and zeal in their character and the way they teach their craft.
Oksana and Michael walked in to our coffee shop with poise, dignity, and pure adoration, and far surpassed their ability to teach about all things coffee. Everyone they encountered walked away with a sense of achievement and self-worth in not only what they learned, but in who they were. We knew the Fisenko's were the right people to bring in to train and refine our baristas when we read their story as well as encountered Oksana and her son Michael's skills in coffee making. After seeing their character shine as they taught those around them, we knew we wanted to share our experience with the world.
Oksana and her husband Alex Fisenko, opened up their very first coffee shop in Berkeley, CA around 1969. Now nationally renowned, Alex Fisenko traveled all over the world on consulting assignments to locations in Thailand, South Korea, Belgium, Saudi Arabia and Barbados. He was also a speaker and seminar presenter for five years for the nationwide CoffeeFest Organization. Alex eventually passed away, but left his legacy and passion to his wife Oksana, and their son Michael. Since then, they teach the art of coffee making in their hometown in Oregon, and in other parts of the world.
Because there was no precedent to this business, they learned by making every mistake in the book – so the barista's they've taught, won't have to make them. They teach tips on coffee making and espresso brewing without holding anything back. They have top of the line instruction and value in what they know and teach, which can't be found anywhere else.
One of the many leaders in the coffee industry they were able to train in their previous years, was named Dave Olsen who later in his life, opened up a coffee shop in Seattle, Washington and soon partnered with Howard Schultz, which became the birth of Starbucks. Starbucks is now one of the leading franchises in the coffee industry.
We are fortunate our baristas were able to learn from individuals whose passion has sparked success in so many others around the country and the world. Our baristas have now caught a dynamic sense of passion the Fisenko's exuded when they trained them, and they're more confident than ever in their coffee making skills and expertise. We made sure our baristas had an opportunity to learn from the best—to better serve our customers and create for them the best espresso's they've ever tasted. The crema, fresh beans, and aroma in our coffee shop will spark a new love for coffee you never knew you had.
---
DO NOT BE FOOLED! hands-on training cannot be replaced by online tutorials as many barista schools claim! One needs to "personally" see and do training on all equipment and taste all the drinks off the menu!! The nuasances of 'doing' make the difference between "book knowledge" and practical experience!
Three-Day Coffee Business and Barista School
One & Two-Day Coffee Business and Barista School
On-Site Barista Training
NEW! One-on-one Remote Training via Video Conference
Please click on the droplists below to learn more about our products...
Three-Day Coffee Business and Barista School
How We'll Help Your Coffee Business
Reach It's Maximum Potential!
Our Coffee Shop Business Seminar uses proven tools and techniques to make prospective coffee shop and drive-thru owners highly successful—with training in Alex Fisenko's methods of "How to Make Real Money with a Retail Coffee Business" with the "Least of Pain and the Most of Gain!" We don't just teach business owners how to make espresso-based drinks, we teach them how to tap into unlimited potential and develop a highly prosperous business.
During this three day class you will be trained and instructed by Oksana Fisenko and Michael Fisenko in all phases of planning, designing, marketing and proper drink preparation techniques. This training is based on Alex & Associates' forty years of experience as very successful owner-operators of sixteen shops, and as highly successful consultants—Alex having opened hundreds of independent coffee shops and drive-thrus "personally" nationwide for clients with no experience in this business.
This class is held in Troutdale, Oregon, a charming
suburban community of Portland, not far from the airport…
In order to provide a realistic setting, the school is in an actual former coffee shop, with the same equipment, menu and products that hundreds of our clients are using to great success all across the country. We will not waste your time or money on subjects that do not have any bearing on the "bottom line" of your business. For example, you will not learn about the origins and cultivation of coffee beans; nor will we take you on exotic cruises to coffee producing countries.
Don't be fooled by imitators. There are many consulting companies in business today that have followed in our footsteps and are utilizing information from our books, DVDs, barista training materials and consulting programs. Why? Because our methods, programs and training DO produce the best results.
We focus on things that really matter, such as:
Coffee shop and drive-thru locations
Business Plan for your investor or landlord
Shop/Drive-Thru layout for speed and efficiency of operation
Espresso equipment (which kind are the best for you)
An "espresso focused" customer friendly menu
A "jump-start" marketing program to bring customers into a new shop
Comprehensive and intensive drink preparation
techniques system (barista training/practicum)
Opening / closing procedures & daily cash management
Choosing coffee, related products and supplier
Since we limit the number of students per class, we are able to provide each student with more individualized, comprehensive "hands-on" training than a large group can accommodate. Additionally, we will be able to work with each student one-on-one concerning more individual areas of interest, such as a location you may be considering, the layout of your shop or any other matter pertaining to your specific needs.
Classes usually fill up by the 10th of the month. Please confirm your space by phone or e-mail before making a payment. If the class is sold out or if it is premature for you to attend, the "next best" option is our Espresso Business Success Program Book & DVD.
If you can't make it, this deposit may be applied to the next class. This deposit is "not" refundable, but can be applied to subsequent classes should you need to reschedule.
Please give us a call at 1-503-590-9423 for the cost of attending our 3-day class. To join this class, we require a non refundable $500 deposit no later than the 10th day of that class's month, the rest to be paid by the 17th.
This "Three Day Coffee Shop Business and Barista Seminar" is for those especially that are starting out and need to gain practical knowledge about the whole business aspect of planning, executing and operating a coffee shop or a drive-thru. This comprehensive training is very similar to our "Turn Key Consulting" for which you would pay more along, with travel expenses, see below.
---
Oksana and Alex's son Michael are carrying on his legacy and are very well versed in the espresso business. Oksana worked with Alex for almost forty years, Michael trained under Alex for three years and is an accomplished Barista Trainer going from location to location for on-site training.
One & Two Day Coffee Business and Barista School
How to Increase your Espresso Sales and Profits!
Call for pricing, class dates, and times.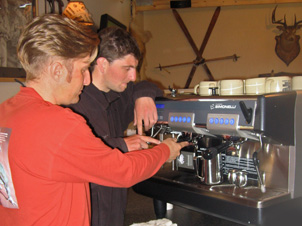 As we travel all over the country opening coffee shops and drive-thrus we have many opportunities to visit and observe a great number of independent and franchised coffee concepts in operation.
In order to achieve maximum sales potential, a retail coffee business must know not only how to prepare espresso based drinks promptly and correctly for better taste, but also how to sell them to their customers. If you don't know how to sell them, you won't be preparing them, will you?
If you are about to open your shop, or if you already are in business, these "hands-on" classes will teach you some effective and proven ways to jump-start your business. It includes proven and tested "espresso focused" marketing techniques that will help you to sell more espresso based drinks and put more money in your pocket.
We will show you how to develop an espresso-focused, "customer friendly" menu, which is your most important marketing tool. While the average independent coffee shop manages to serve only 31% of espresso based drinks, our clients average is 87%! Just think how much more money you will make if instead of selling 200 cups daily of brewed coffee at $1.25, you sell 200 espresso based drinks at an average price of $2.97! That is an addition of over $50,000 a year in your pocket!
These effective marketing tools and drink preparation techniques were developed by Alex Fisenko while operating his own sixteen shops from 1970-1998, and from what he learned as a consultant while opening hundreds of coffee shops and drive-thrus all over the country in the last eight years. It is an impressive legacy.
This legacy has since been passed on to Oksana and Mike Fisenko. Today they continue to pass that legacy to entrepreneurs around the country and to clients attending their Barista Training School in Troutdale, Oregon.
These classes focus on speed, efficiency
of service, and teach the following:
Barista customer interaction
Cost analysis -- profitability, monitoring costs
Purchases -- equipment, supplies
Branding - importance in today's market
Analysis of systems and its efficiency - product vs. costs
How to sell mainly espresso based drinks
"Secrets" of Espresso Marketing
Techniques to extract the "perfect espresso shot"
Perfect milk frothing techniques for the right texture and taste
Hands-on training in preparing all menu drinks - hot and iced
Hands-on training preparing smoothies and mochaccinos (frappuccino)
This course will be comparable to our "Turn-Key, On Location" Training except that it will focus on barista skills. All the students will learn to properly operate actual espresso equipment and prepare dozens of drinks.
To join this class we require a non refundable $250 deposit by no later than 10th day of the class month, the rest to be paid by the 17th. If you can't make it, this deposit may be applied to the next class.
Do you feel uneasy opening your Coffee Business by yourself? Not sure about your barista skills?
Mike Fisenko has helped open many shops and drive-thrus. He will help you set up your shop and provide much needed marketing and barista training during your opening. He'll also provide training for you and your employees on a daily fee schedule.
Two day minimum. Training at your location available by appointment.






NEW!
One-on-One Video Conference Training
The next best thing to on-site training!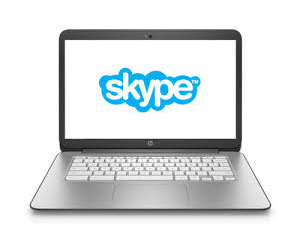 If you can't afford to train with us in person this is a great option! This package consists of five hour-long sessions in which you will receive approximately 45 minutes of dedicated training/teaching followed by a 15-minute Q&A period.
These sessons are one-on-one – so we'll move at your pace!
After the classes we will send you a folder of material outlining what we covered for your future reference.
Includes our 90-minute training DVD!
We will send via mail our popular 90-minute DVD in which Alex Fisenko goes over all the drinks.
Includes additional followup consulting!
After the sessions are complete, you will have unlimited access to followup consulting regarding equipment, vendors and more (via email or telephone).
Please call for pricing information: 503-590-9423.
---